Edible Playground

Loxford School are proud to announce that we now have an Edible Playground.
The Edible Playground was built by the charity Edible Playgrounds, which is part of Trees for Cities which transform areas in school grounds into vibrant outdoor spaces that excite and teach children about growing and eating healthy food. By instilling healthy eating habits at an early age, Edible Playgrounds help tackle obesity, food poverty and lack of access to nature head on, and provide a platform for fun and engaging lessons that support the school curriculum.
The edible playgrounds are designed specifically for each school and elements include: an outdoor classroom area, raised beds for growing fruit, vegetables and herbs, fruit trees, a green house and a composting area.
Here at Loxford we recognise that however important examination results are education goes beyond simply grades. Students need a variety of interpersonal skills together with the resilience to cope with the demands of our changing world. We are working with our partners at the charity Trees for Cities to transform an area of our school site into an Edible Playground and mindfulness area. We are very fortunate to have sponsorship from Blub which is a renewable energy supplier. They have generously given the school ¾ of the funds needed to create an area where students can grow food whilst growing stronger as people.
The Edible Playground aims to address several key areas of concern around children's health. We will teach pupils about nutrition, encourage physical activity, and show how students grow their own food in and outside school helping with food poverty. The Edible Playground works for lessons on healthy eating, growing food and so on but it's also a teaching resource to use across the entire curriculum. For example, maths can be taken outside to measure yield and the dimensions of crops as they grow.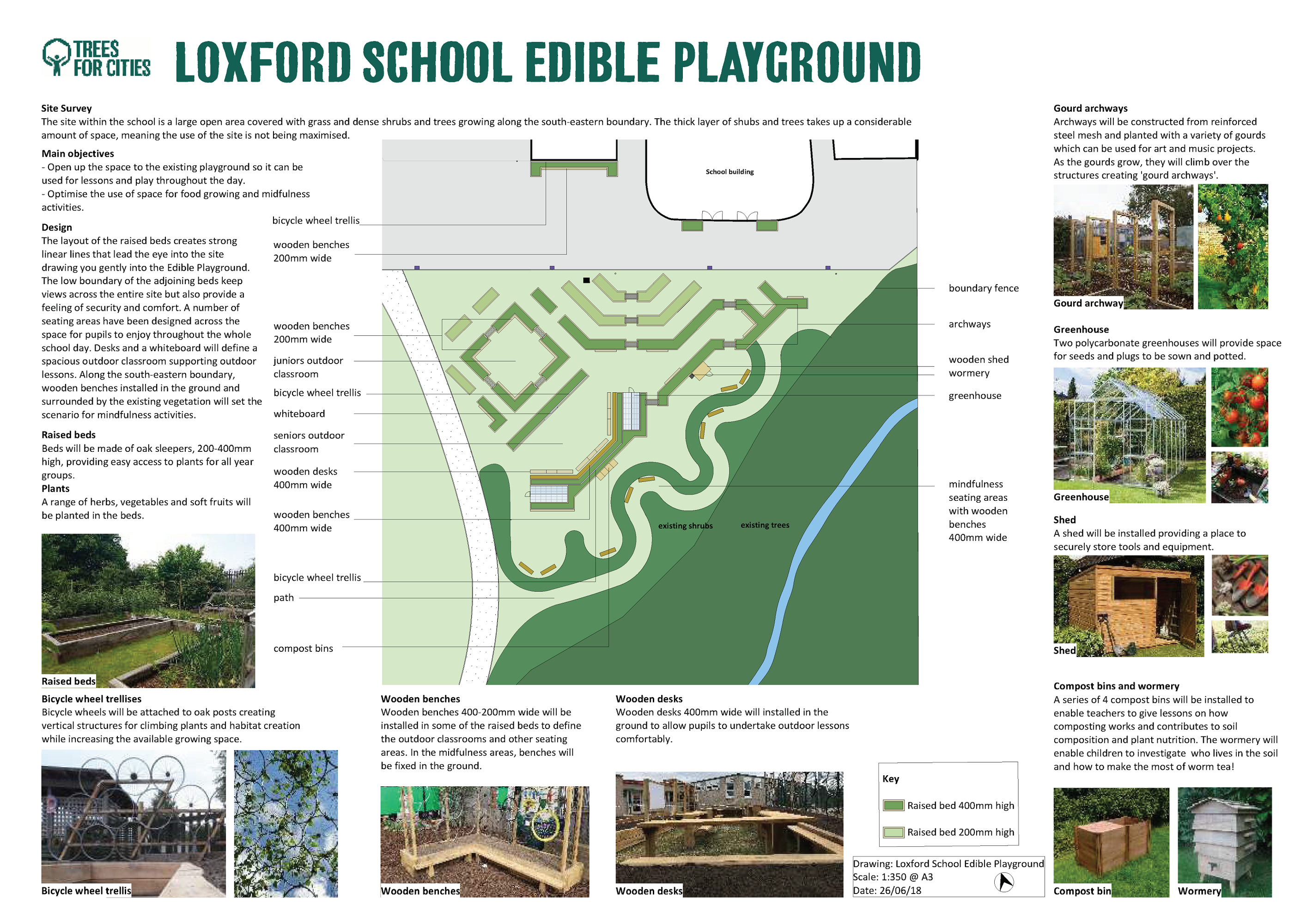 As you can see from the design drawing the area has a range of areas dedicated to different activities including raised beds allocated to each year group from 1 to 6. Here their science curriculum literally comes to life with plants growing to showing theory in reality. We have dedicated areas to food technology and science in our secondary phase. One of our 2 greenhouses is dedicated to the secondary science curriculum allowing students to experiment with different growing conditions. Students are able to cut herbs and use them within their dishes. Looking into the future we have planted a range of soft fruits which with our love and attention should give us crops for food technology dishes. The planting plan changes with each season, the Winter/Spring plan can be seen below
Outdoor Classrooms
We are fortunate to now have 2 more classrooms as part of this project. We have a benched area where primary phase students can sit for their lesson and a larger area with wooden seats with desks and a white board enabling secondary students to be taught outside. Both areas benefit from being framed by bicycle wheel trellising with planting growing up showing how discarded items can be recycled into new useful products. All these areas are accessed through arches which will have plants trained up their trellising so as you walk through you really do know you have arrived in a different area of our school.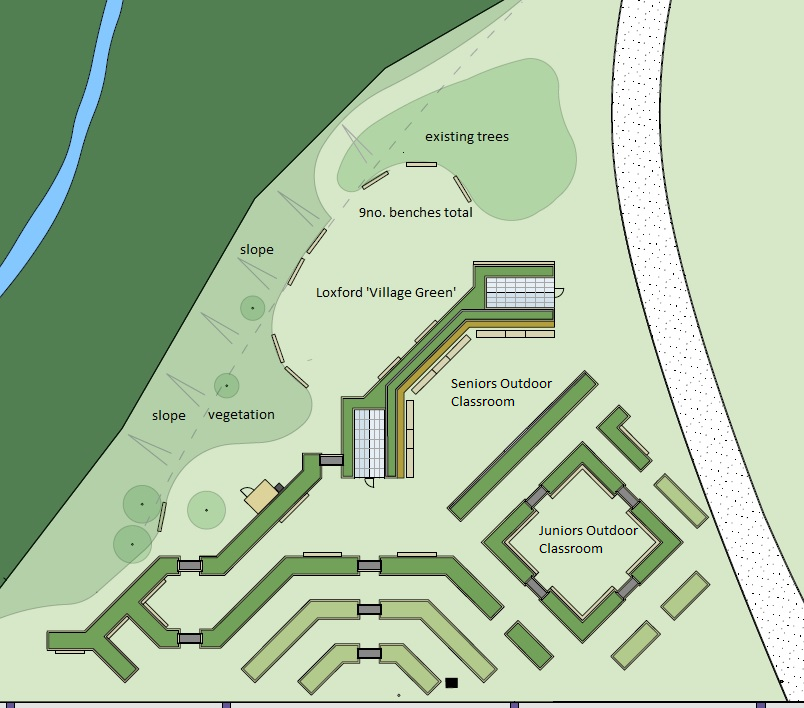 Mindfulness Area
We are acutely aware that our modern world can have a negative effect on our overall wellbeing and so right at the very first point in the design for this area we wanted to have a mindfulness area. This would provide a calm place where staff and students could come and relax, eat their lunch or simply find a place to unwind. Our partners at Trees for Cities really understood this concept and through a series of designs we have the beginnings of a very special area. We say beginning as this will be a place which evolves over time. The mindfulness area is flanked along the edge of our Edible Playground by flowers and plants. The design aims to flower at different times in the year giving a constant focus as one plant comes into flower as another dies back. A series of wooden benches have been placed for students and staff to sit and enjoy the area.
A series of wooden benches have been placed for students and staff to sit and enjoy the area. We successfully bid for tress and shrubs to frame the paths in the area. Thanks to The Woodlands Trust and The Mayor of London/The Conservation Volunteers we will have 160 tress and shrubs to plant.
Their aim is to give away 25,000 trees to community groups, schools, and other organisations across the city to make London greener and help bring cleaner, fresher air to all Londoners. We will plant Hawthorn, Common Dogwood, Blackthorn, Goat Willow and Guelder Rose to encourage wildlife and Mountain Ash/Rowan, Bird Cherry, Common Crab Apple, Grey Willow and Hazel to shade the benches in the summer.
Development
Our development is also being supported by Redbridge Council Parks department who have delivered loads of bark chippings created through their work in our local parks. We are using this to supress the vegetation which has grown over the area of many years until the new tress and shrubs become established. Groups of students have enjoyed moving the chippings and seeing how they can change are area for the better.
Our design for this area has evolved following this successful bid. We have an oval shaped area of grass which has been named the Loxford Village Green. The positioning of the benches, planting of mindfulness flowers and the trees we have been given all made the creation of another teaching space possible. Alongside its use during break and lunchtime we envisage this area being used by classes for reading or even the occasional reward picnic.
This development has many other benefits including aiding transition between the primary and secondary phases offering younger students a place to meet their future peers while working on a shared project. As staff and students see the area coming to life exciting ideas are being proposed. Next year we hope to commemorate Remembrance Day in a very special way – but you will have to wait to see this idea become reality.
If you are interested in developing your own area then you might like to look at the following links below: