News
A Level results at Loxford School
Back
August 19th 2022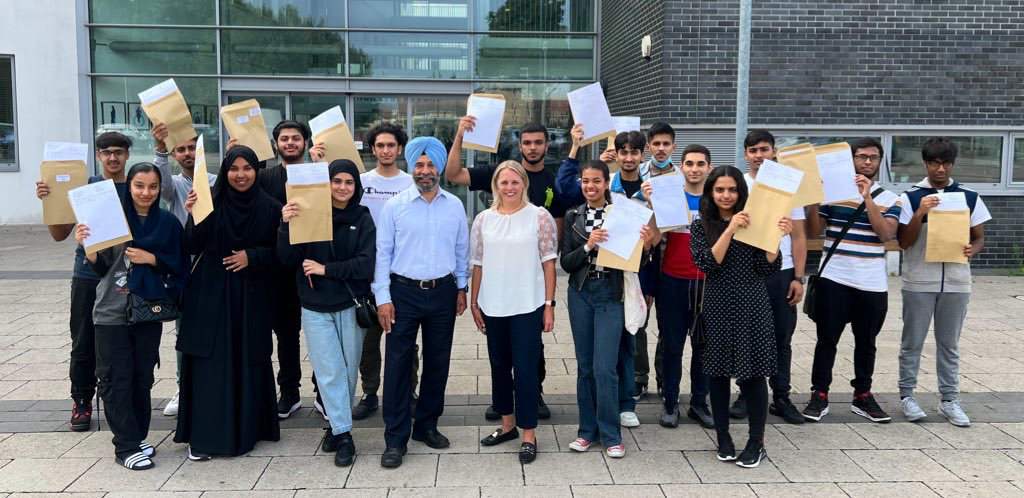 Congratulations to all of our Year 13 students for a fantastic set of A Level and BTEC results again this year.
This summer's results, as with previous years, are built upon a great deal of hard work and dedication from our students. The overall pass rates for both the A Levels and Level 3 vocational courses were outstanding and well deserved, especially with the tricky situation students have been faced with over the past two years.
The majority of students are now heading towards the University of their choice and we wish them well in their next stage of life. It has been a pleasure serving the children of south Ilford.
Many students achieved very high grades at A Level this year allowing them to progress to their chosen destinations including one student who is going to Cambridge and two students who will begin medicine degrees. Overall, just under 80% of student achieved A*-C grades. Our notable students include Tipu Butt, Samit Chowdhury, Alyssa Erulin, Abdullah Nadeem, Anzumana Salah, Zeeshaan Shah, Jasleen Singh, Mohammed Haque, Syed Hassan, Sadia Jahangir, Cayden Judge, Maher Kalam, Awais Karim Naseem, Rasha Mahmud, Vithusayan Mangaleswaran and Amandeep Manku.
Students completing the Level 3 Extended Diploma courses, which are the equivalent to three A Levels, achieved a 100% pass rate with numerous students achieving triple distinction stars which is equivalent to three A* grades at A Level. These results mean that students on these vocational courses have also been able to access courses at leading Universities.
Even with the disruptions and uncertainty that Covid-19 has brought both in this academic year and the last, students and staff have continued to work exceptionally hard to complete their studies in challenging circumstances.
Students have had to be resilient and flexible to cope with changes between times when they have had to study fully online as well as migrating back into the classroom environment for different periods of the year. It is this dedication that we celebrate this week.
Loxford School is extremely proud of all of our student's achievements, and a huge thank you to the students, teachers and parents for their hard work and support. The students are off to start their higher education and apprenticeships - an exciting time for them – we know they will be a credit to the school.