Media Studies
The WJEC Eduqas specification offers learners the opportunity to develop a thorough and in depth understanding of these key issues, using a comprehensive theoretical framework and a variety of advanced theoretical approaches and theories to support critical exploration and reflection, analysis and debate.
The study of a wide range of rich and stimulating media products is central to the specification, offering opportunities for detailed analysis of how the media communicate meanings in a variety of forms. Learners will work from the product outwards to debate key critical questions related to the social, cultural, political and economic role of the media. Through studying media products holistically in relation to all areas of the theoretical framework, learners will engage with the dynamic relationships between media products, media industries and audiences. Learners will also consider established media forms alongside more contemporary forms, developing an awareness of emerging and evolving media.
Although the primary emphasis in this specification is on the contemporary media, learners will explore how the products relate to their wider historical contexts. Learners will also extend their experience of the media through the study of products with which they may be less familiar, including those produced by or for a minority group, non-mainstream and non-English language products. This specification aims to develop knowledge and understanding of the transnational nature of the media, considering the effect of different national contexts on representations in media products, the global reach of media industries, and the targeting of audiences on a national and global scale.and global scale.
Specification link
Main website for A Level: https://www.eduqas.co.uk/qualifications/media-studies/as-a-level/
Course specification: https://www.eduqas.co.uk/qualifications/media-studies/as-a-level/Eduqas%20A-Level%20Media%20Studies%20Specification%20(From%202017).pdf?language_id=1
Level 3 BTEC
Certificate Level: BTEC Level 3 National Extended Diploma in Creative Digital Media Production (Television, Film & Radio)
Moderation Board: Edexcel
Course Structure: – 7 mandatory units and 6 combined units.
Students enter the two-year vocational course and work with three teachers on separate units. The assignments will support pupils to research and reflect on their creative process.
What is BTEC Creative Media Production in Television and Film?
Please read the Why Choose BTEC PDF.
Entry requirements: 3 in English and/or 3 in Media at GCSE if studied.
Essential if you go on to: Advertising, Journalism, Teaching, Marketing Promotion, Film editing and production, television research.
How will the course be assessed?
Pupils will be assessed across 13 units. These include 9 assignments marked internally by your teachers, 3 tasks marked externally by the examiner and 1 exam also marked externally.
Unit 2 Working Creative Media Industry
Unit 4 Pre-Production Portfolio
Unit 8 Responding to a Commission
Unit 15 Advertising Production
Unit 20 Single Camera Techniques
Unit 22 Interviewing Techniques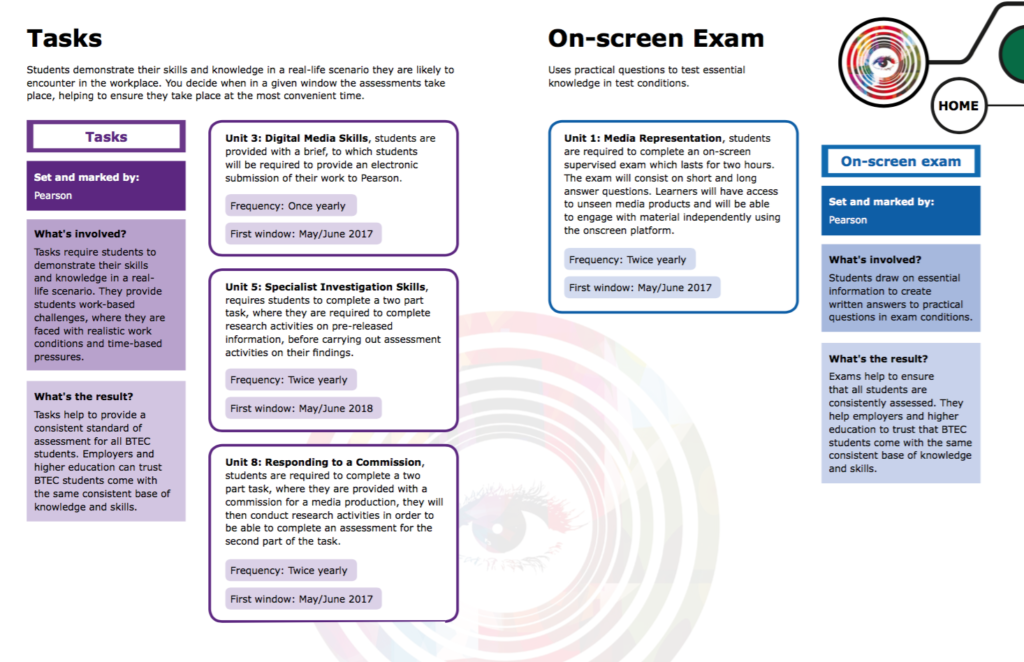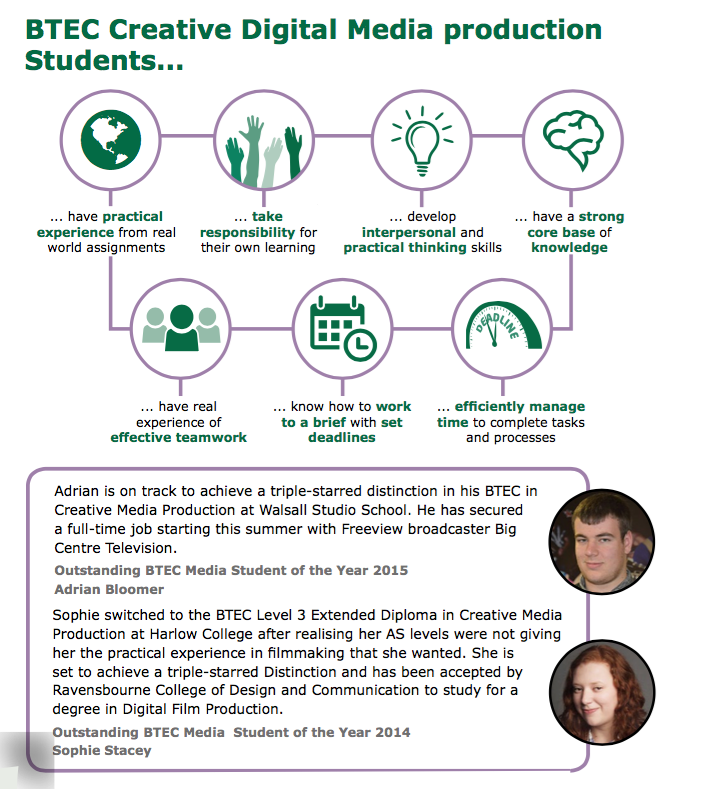 Why you should consider this course
The media play a central role in contemporary culture, society and politics. They shape our perceptions of the world through the representations, ideas and points of view they offer.
The media have real relevance and importance in our lives today, providing us with ways to communicate, with forms of cultural expression and the ability to participate in key aspects of society. The economic importance of the media is also unquestionable. The media industries employ large numbers of people worldwide and generate significant global profit. The globalised nature of the contemporary media, ongoing technological developments and more opportunities to interact with the media suggest their centrality in contemporary life can only increase.
If you want to understand the world we live in today, you have to study the media. If you want the opportunity to join one of the world's largest industries – the creative media industry – and have an exciting career, then this is the subject for you.
A Level Results 2022
Congratulations to all A Level students
87% of students achieved A* - C
Best of luck in your future pursuits and well done on all the hard work
A Level Results 2021
Congratulations to all A Level students
100% A*-C
Best of luck in your future pursuits and well done on all the hard work
A Level Results 2020
Congratulations to all A Level students
100% A*-C
Best of luck in your future pursuits and well done on all the hard work
Future Career
London is one of the largest media capitals in the world and offers a magnitude of career choices in all areas of the media.
Media Studies can open the door to a range of exciting careers such as law, music, film production, journalism, advertising and marketing. As we enter an ever-changing media and information age, an understanding of how the industry works has become essential to all careers.
Spend 10 minutes going through this interactive quiz and see what media job is best suited to your personality: http://guru.bafta.org/careers-quiz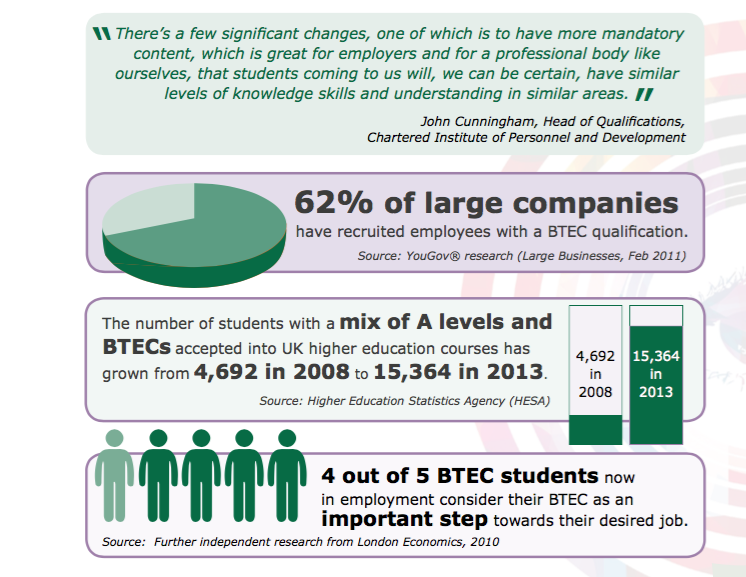 Useful Links